What are the odds of That? - Hi there, Esther the Esthetician here with another blog article to help Transform your live, reduce stress, and build confidence. Our goal with each and every blog article is to inspire, educate, and entertain you.
---
LISTEN TO THE PODCAST EPISODE FOR THIS BLOG:
---
What are the odds of that? If you're open minded and are serious about clearing up that unwanted acne scars to help you get the career and life you want and deserve... You definitely want to hang out with me and read today's blog episode. Plus, If you read the entire blog you'll find some hidden gems (Gifts) I've designed just for you.
I recently shared my frog story with some of my VIPs via email recently. They thought I deserved being laughed at...however, I'll let you be the judge of that. If you haven't yet, Look out for an email from me titled "What are the Odds of That?" In the email, I also shared this:
Do you realize how strong and powerful you truly are?!?
You are one in 400 trillion… on the night of conception, 4000 trillion sperm raced to that one egg… You my friend made it out on top… because you are special and you were meant to be here!! You are the smartest & strongest person you know.
Did you know that your brain worked like a supercomputer? What type of information are you feeding your supercomputer on a daily basis?
I Challenge you this week to…
Find a book you've always wanted to read
Find a space in your house to dedicate as reading space
Schedule time in your calendar to read for 15 mins. Per day.
Create a music playlist for reading
Read for 15 minutes every day!!
Feel free to use your timer to make sure you're not not going over 15 minutes… If that's a concern of yours.
If you can't find 15 minutes to work on yourself… What are you really doing with your life?
123 GO! | Countdown to Go | Mindset
I read recently that one of my favorite peeps "Tony Robbins" count to and so go - As soon as he says go… He just went for it! I decided to try that last week. Surprisingly… it works
All Great Things begin from the inside:
I heard Jim Kwik say this recently… an egg that's broken from the outside ends a life… while an egg that breaks from the inside begins a life. That's why it's important to retrain your mind and break the thought patterns that got you in the situation you are in now. Make time to learn and grow. You have super powers and you were born to do great things in the world… Don't let your negative self-talks hold you back from your true potential. Remember this.. Learning is your ultimate super power.
MY MESSAGE TO YOU THIS WEEK
No matter where you are or what you have going on… You have an advantage… You are alive, and have the ability to tweak and fix/improve things.
Check out this video for a guide to dealing with back and/or face acne scars and brown spots/uneven skin. Blemished skin should not keep you from the life and career you want and deserve.
---
I hope today's blog post has helped out. If you have any skincare questions… please don't hesitate to DM me or post them below. The health of your skin is in your hands. Don't wait, take action in the right direction today.
WHAT'S NEXT?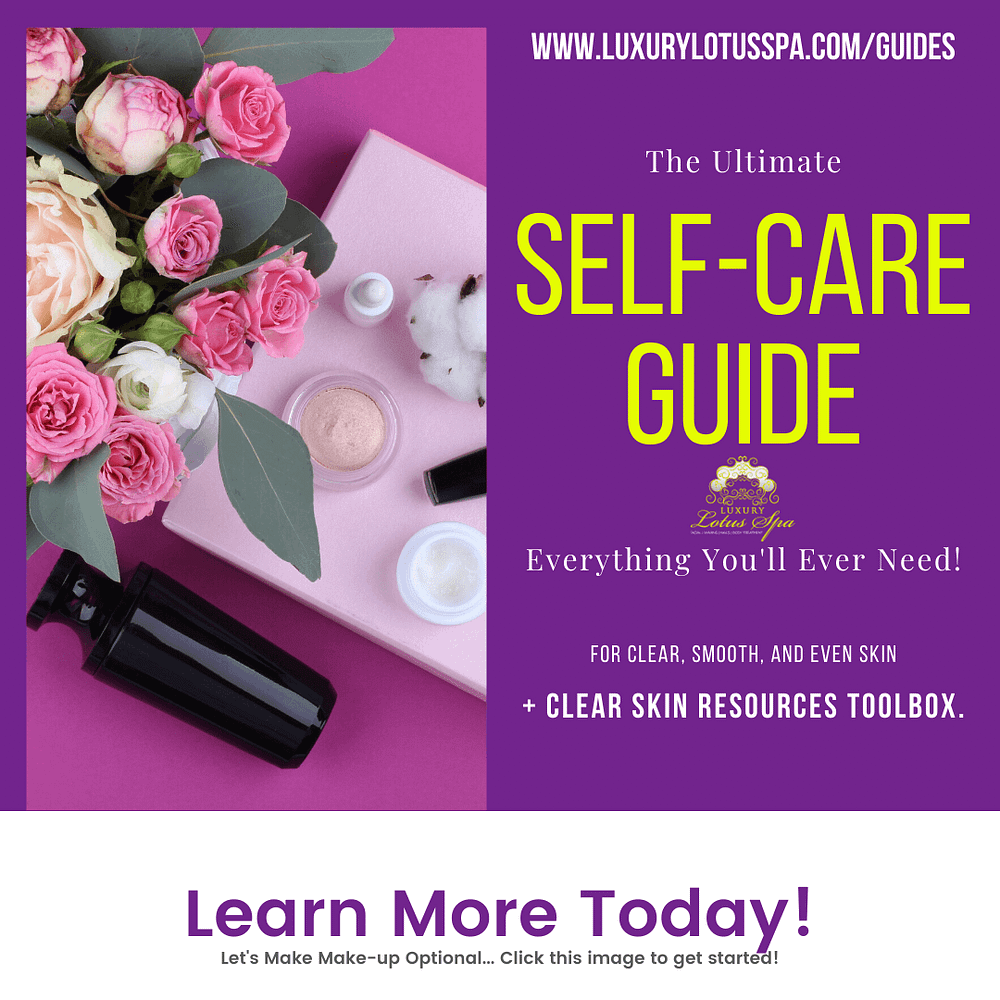 Visit www.LuxuryLotusSpa.com/Guides to download your free step by step guide. This free guide will have EVERYTHING YOU WILL EVER NEED for Clear, smooth, and Even Skin. Let's work together to make Make-up Optional.
HOW TO RECEIVE FREE FACIALS FOR LIFE
P.S. If you have any friends, family members, or co-workers who need skincare TLC, please share this email. I promise to take great care of your referrals. Thank you in advance for your help and support