Daily Regimen for Clear Smooth and Even Skin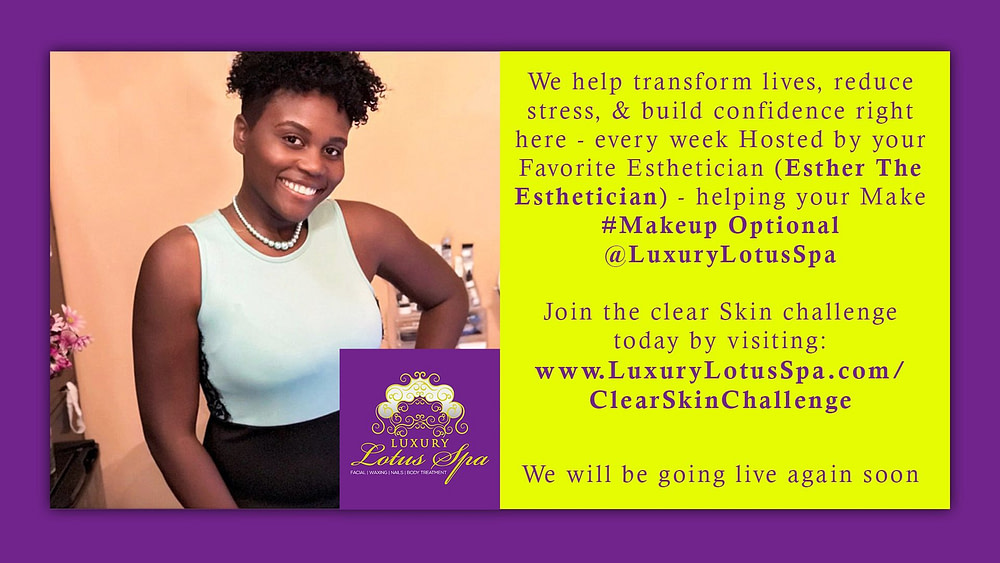 Daily Regimen for Clear Smooth and Even Skin
Hello, it's Esther the Esthetician once again.
I want to personally thank you for taking out time to read this. 
Many times we go through life with our spots and skin challenges amplified. You know that point where it seems like everyone is looking at you! and rather than bask in the attention you are worried they may be noticing your scars and other skin conditions. Well, that's an unpleasant feeling and that is why I'm here.
Today, we'll be talking about your daily regimen for clear smooth and even skin and how to get the best of your skin, feel beautiful and confident, and ready to take the world on an awesomeness spree! Alright, let's get on with it.
A Daily Regimen that works
Please Note: Do not limit your skincare to only spa visits and time with your esthetician! I always try and have this conversation with all of my clients. Reducing your skincare consciousness to only days you have an appointment is like brushing your teeth only when you visit your dentist. You need to pay attention to your skin and give it all the love and tenderness it needs, even from home.
Tip 1: Cleanse to remove dirt, oil, and/or makeup (Two times a day – Morning and evening)
Double Cleanse each time you clean your face.
Recommended: Know your skin type to determine which cleanser is best. (You may have dry skin, or oily skin or a combination).
How to know your skin type: Clean your skin twice with a cleanser and then look in the mirror to see if your face is oily or dry afterward. Oh, yes, it is actually that simple.
Tip 2: Exfoliate your face for a refined and even look
Exfoliating opens your pores and helps your skin get rid of dead skin.
Recommended Technique: apply the scrub in bits on your face upward (in a circular
motion) with light pressure for one minute
Here are some additional resources: STEP BY STEP DAILY REGIMEN FOR CLEAR,
SMOOTH, AND EVEN SKIN
How many times a week?: I recommend you exfoliate once a week.
Tip 3: Steaming
Steaming is very relaxing and cleansing and refreshes your skin.
Recommended Technique:
✔ Boil water
✔ Put in a bowl and place over face.
✔ Don't go too close, it should feel warm and not hot
✔ Steam for 10-15 minutes
✔ Once a week is fine too.
Tip 4: Treatment Mask
After going through tips 1-3 your skin would be receptive and very much ready for treatment.
Recommended Technique:
✔ Apply your mask with a brush
✔ Leave for 10-15 minutes
✔ Rinse with warm water
✔ Use Once a week.
Add ons: Use cucumber slices or a warm green tea bag over your eyes.
Tip 5: Treat your skin with serums or acne cream or retinol treatment
Tip 6: Moisturize
Know your skin type to determine which moisturizer is best. Remember the skin test above.
Frequency: Two times a day – Morning and evening
Tip 7: Sun Screen
Sun Screen helps all skin shades; dark or light.
✔ Apply a small quantity of sunscreen
✔ Apply during the daytime.
There you have it, simple, and practicable.
For additional guides & support, visit:
BLOG:

https://luxurylotusspa.com/step-by-step-daily-regimen-for-clear-smooth-and-even-skin

VIDEO: 
Blog
Podcast
Resources
Shop
Virtual Facials
Private Facebook group